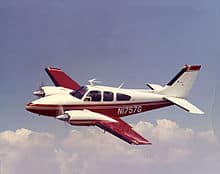 Beech Baron C55 (1966-67) serial numbers TC-350, TE-1 through TE-451
The Beech Baron C55, D55 and E55 (the "little Baron with the big engines") models had an increased cruise speed of 200 knots (370 km/h) due to the 285 hp (213 kW) Continental IO520s. The gross weights of these later models increased to 5300 lb (2400 kg). They were about a foot (0.3 m) longer than the B55 Barons.
Big-engine Beech 55 Barons are easily identified by the air scoops atop the cowlings. The difference in length is less obvious, but it shows up when it comes time to load the airplane: The nose baggage compartment is larger, as is the cabin. Other differences included the level of standard equipment, and the availability of a 166-gallon fuel system on the big-engine version.
Built 1966 through 1967. Four to six seats. Powered by two, 285-hp Continental IO-520-C piston engines. Increased performance over the B55. Nose lengthened to accommodate more baggage, avionic equipment, and to improve weight and balance. Crack prone engine air intake box design changed. Alternators changed from belt driven to gear driven. 451 aircraft built. Priced at $68,350 in 1966.
Performance specifications
Horsepower: 2 x 285 HP
Best Cruise Speed: 200 KIAS
Best Range (i): 550 NM
Fuel Burn @ 75%: 31.0 GPH
Stall Speed: 67 KIAS
Rate of climb: 1,670 FPM
Rate of climb (1 engine out): 335 FPM
Ceiling: 20,900 FT
Ceiling (1 engine out): 7,100 FT
Takeoff distance: 596 FT
Landing distance: 868 FT
Takeoff distance over 50ft obstacle: 968 FT
Landing distance over 50ft obstacle: 1,414 FT
Weights
Gross Weight: 5,300 LBS
Empty Weight: 3,075 LBS
Fuel capacity: 112 GAL
(Performance specs from planephd.com)
Beech Baron D55 (1968-69) serial numbers TE-452 through TE-767
Built 1968 through 1969. The airplane was the Beech Baron D55
The D55 was built in1968 and the E55 in 1970. Four to six seats. Introduced new paint scheme and 'speed-slope' windshield. Changed to three blade props and a different flap configuration. 316 aircraft built. Priced at $73,950 in 1968.
Performance specifications
Horsepower: 2 x 285 HP
Best Cruise Speed: 200 KIAS
Best Range (i): 550 NM
Fuel Burn @ 75%: 31.0 GPH
Stall Speed: 67 KIAS
Rate of climb: 1,670 FPM
Rate of climb (1 engine out): 335 FPM
Ceiling: 20,900 FT
Ceiling (1 engine out): 7,100 FT
Takeoff distance: 596 FT
Landing distance: 868 FT
Takeoff distance over 50ft obstacle: 968 FT
Landing distance over 50ft obstacle: 1,414 FT
Weights
Gross Weight: 5,300 LBS
Empty Weight: 3,075 LBS
Maximum Payload: 2,071 LBS
Fuel capacity: 112 GAL
(Performance specs from planephd.com)